Mythbusting #digimeet - Women are soft
When I first moved to Newcastle upon Tyne for University in 2004, having grown up in North Yorkshire, I was the southerner and I had to prove I wasn't a softie. This was achieved by leaving the coat and tights at home for a night out. For any southerners believing this to be crazy, I'll let you in on something. It is. Northerners are not really any harder than you. They're just more accustomed to ice-cold winds and they drink enough that they're wrapped in a sufficiently warm beer jacket.
Aside from being labelled a 'southern softie', I have, for years, been told I am soft but not with a tone of admiration, with a tone that adds 'too'. I've often been told I need to toughen up. Respond less emotionally. Refrain from wearing my heart on my sleeve.
As others have already written this morning, one of the most problematic results of a label is that an assumption is made that expects someone to deny their true selves. Yet I believe there to be an even more damaging result of labels than this.
There's a suggestion to my label as 'too soft' that I am therefore vulnerable and I I open myself to manipulation from others, as if being shouted at and interrupted is something I invite upon myself. It is this view that leads society down holes it shouldn't venture. Certain unacceptable behaviours are permitted because the woman should have behaved differently.
I know a woman who has reached the top of her game at work against all the odds in a male dominated arena. Her colleagues know her as someone not to be messed with. Yet at home, for over a decade, she has been victim to domestic violence. She was manipulated in the extreme because her hardness at work belied what she should be as a woman. She should have been softer and so she was punished.
I know a woman who, having got pregnant at a young age, was criticised by those around her. She had been too soft and allowed a man into her life that she should have known was never going to stick around. For the rest of her life she would harden to people she had known ignoring her in the street, to her mother's distaste, and absorb the shame as something she deserved for her weakness.
It is deemed that softness, whether too much or not enough, can be punished because an assumption exists of the way women should be.
The other myths being discussed today- women are bossy, domesticated, baby makers... are problematic for similar reasons. These labels all permit judgement and ill- treatment for those that fit the label too much or not enough.
As has also been pointed out today, the language we choose is significant and if women are soft what does that make men? Hard? Strong? The language we use for women often set just as damaging expectations for men. I've seen the damaging effect for young teenage boys trying to find their place in the world when they have a softer side; continually working to show off just how hard they can be, often through reckless behaviour. Yet when such men find a space outside of these expectations they turn into great fathers and leaders with an empathetic outlook. Where this continues to be hidden, it results in men who are denying their true selves.
Labels make a one-dimensional statement about a person.
They sustain a dichotomy between men and women.
They define sets of behaviours that apply or do not. There is no in between.
Softness is often separated from strength and yet this image contains both. Her action is calm, soft, and yet there is true strength and bravery in her actions.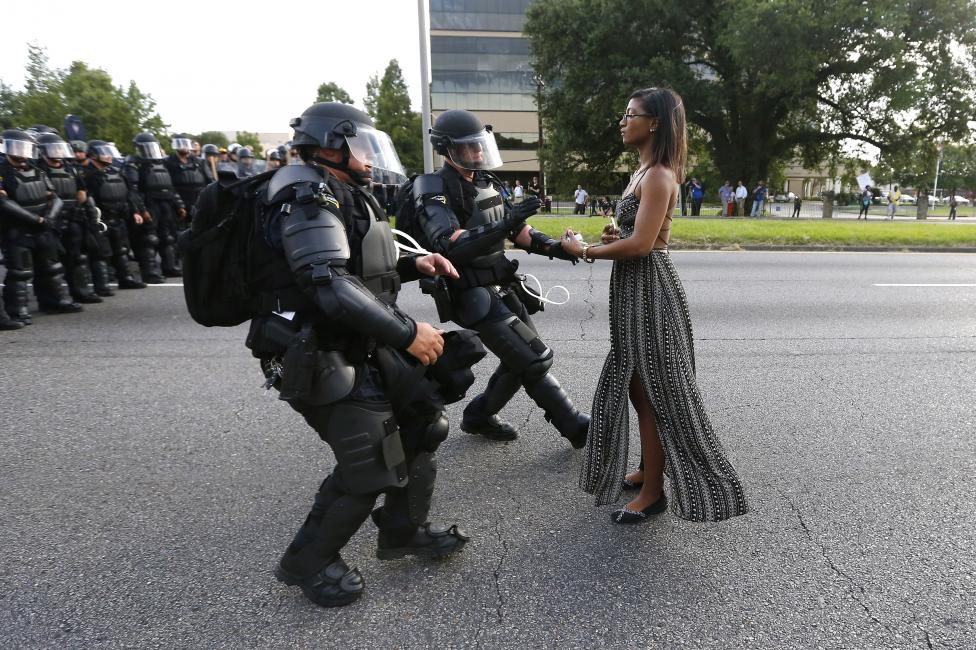 Shot by Jonathan Bachman for Reuters
Labels are unacceptable. They are lazy and they are damaging for a multitude of reasons. They leave people questioning their identities. They permit unacceptable behaviours and above all, they perpetuate a society that lacks equality.
Let's continue to bust myths, ditch labels and challenge one another when we're lazy with language towards both others and ourselves.